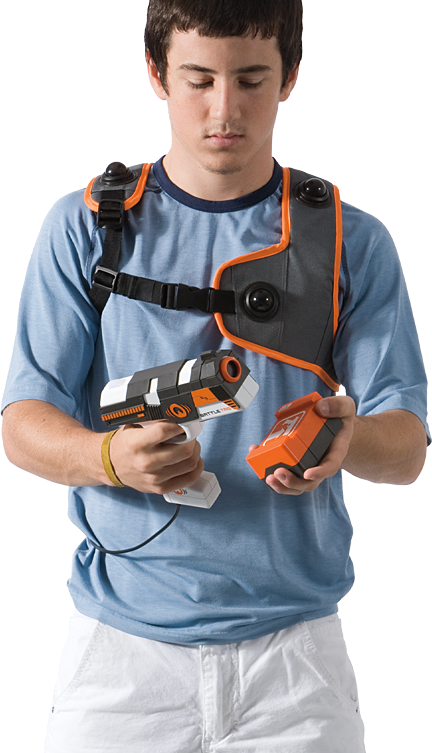 It seems I've come across the only evidence that Battle Tag has truly left the world of Laser Tag. While cleaning my workshop up, I came across my Battle Tag 2 player set and was like "oh yeah! I wonder if they've done anything else with it?" Upon deciding to check up on their dedicated forum for it only to be redirected to the main
Ubisoft Forum
, I did some more research around the 'net to see where Battle Tag had gone. Battle Tag has been removed from
Ubisoft's online store
and no searches on their website or forum bring up any information about this system. The only thing that still officially exists (as of the time of this post) is the
Battle Tag Website
.
I've been calling Battle Tag's demise for awhile. It never got out of it's "Soft Launch" state, which was essentially market testing after which it just sat there. With no word from Ubisoft on the forums after Summer of 2011, I presumed it dead, but posts still lingered on the forum and things still showed up on eBay for the system. However, after today's findings, it's safe to say that Ubisoft has effectively closed the door on this laser tag system. It had some good things going for it and had a lot of potential for
expansion
and to get better... but obviously there wasn't enough in Battle Tag for Ubisoft to continue it.
At this point, I'm not really sure of what to do with my Battle Tag system. We've considered
assimilating the sensor vest
as a Laser Challenge vest due to it's nice coverage and adjustable straps. I'm not entirely sure what to do with the T-Blaster though. I can't remember the last time I bothered hosting a game from my laptop other than for our
range testing
we did awhile back. I find it funny that of the two new Laser Tag Systems that were coming out around this time last year, the one that I actually kind of liked is the one that faded away whereas there's Light Strike all over retailers shelves. Truth be told, I don't think either system has really caught on with anyone else. I've seen a few things with Light Strike, but nothing significant enough to show a good following. Then again, Laser Tag in general doesn't seem to have a good following in the United States, which is a shame.
For an in-depth and level-headed review of the system, go to "
Thoughts, by Izzy
".