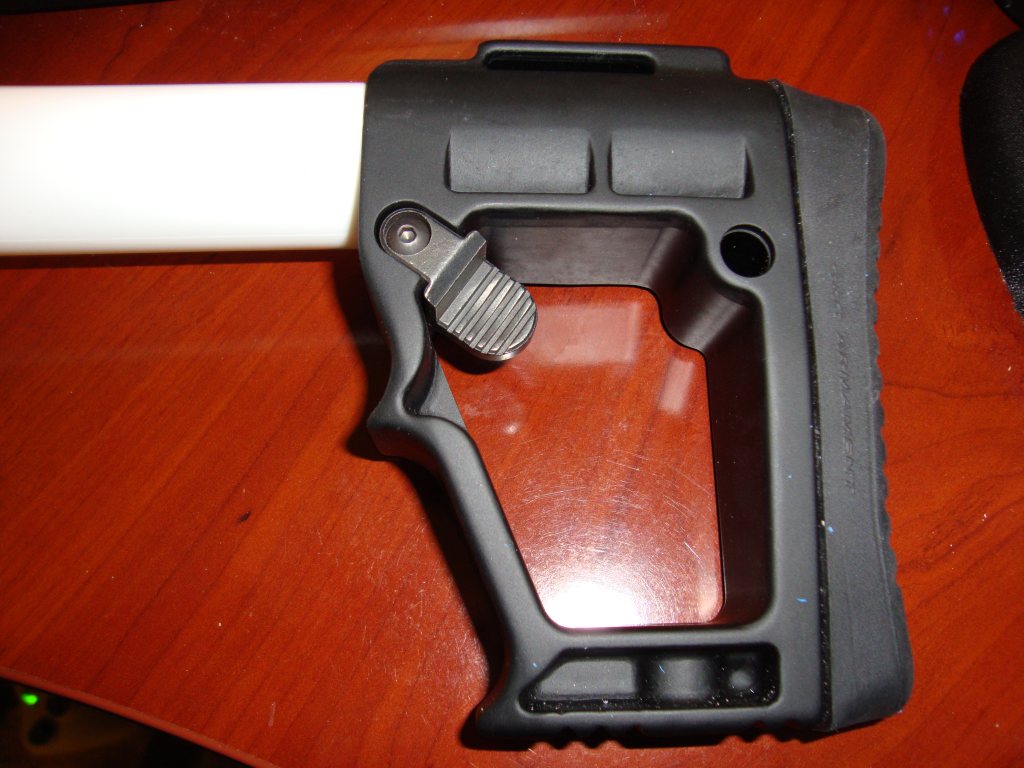 Friends of mine are getting together again tonight for another "Mod Night". We frequently get together to work on blasters and utilize each others help and expertise to make the most of our time. Of the projects, I thought you'd be interested that my friend "German" is working on an N-Strike compatible stock built from Airsoft Gun parts. It'll be able to attach to any N-Strike blaster with the removable stock option. I'm hoping to get some more pictures and see how it's built/how it works. So until then, here's a teaser picture that he sent me. He's the same guy who's working on that Arduino-run Rayven laser tag blaster I showed earlier.
Tonight, "Sundawg" will likely be working on his two-in-one blaster based off the Nerf Stampede. He's already got the Stampede working the way he wants, with a Voltage Mod and Spring upgrade a la OMW along with a better seal on the O-Ring. In it's Nerf state, it's a combat-proven beast. But now, underneath the main barrel, he'll be running a laser tag system with a long-range lens similar to that in my LTX DMR. Here's a quick look at how the Nerf Side is running. Tonight he'll likely be installing systems for the Lazer Tag side of things. I'm excited to see his blaster to start to take shape!
I've got a few projects I could work on, but at the top of that list is a re-wiring of my M41A Pulse Rifle. I'm hoping to get most of the essential parts installed and get the Airsoft side of it running again as I await parts to complete the Laser Tag internals. The stock's locking mechanisms need to be fitted better in the shroud and I've got some wiring I need to run for a Laser Tag trigger in the AEG gearbox. I also might repaint my new Mag Bottoms I got this week. The goal is to have this thing running before the next summer season of Laser Tag starts up.
Mod Nights are a great opportunity to get together with friends and dig into the hobby. It's a time where we can all share what we're good at to make everyone's projects better.