So that
friendly competition
my office neighbor and I had has started a bit of a friendly exchange of foam between other coworkers. Since then, my chair has been
booby-trapped
, others have picked up pocket-sized blasters, and my lower desk drawer is consistently raided for darts. Today was certainly the most intense combat I've seen, so I was glad I brought some help from home in anticipation of the escalating climate.
I can't say I'm surprised. I work with a great bunch of fellas that are all in favor of a little friendly firepower. They all know I've got this blog and that I play Laser Tag and Nerf pretty frequently, so I've got a reputation as the armorer for most of them. Today, I kept the best blaster for myself, laying down quite a bit of lethal firepower with the help of this SledgeFire. It's pretty much impossible to miss with this fella, though I have noticed it's range is a little weaker than the other stock Jolts, Triads, and Firestrikes running around the area. It's clear I need to do a few things to stay on top with the SledgeFire. The first is to clean up my sloppy, time-consuming, and admittedly laughable attempt to quickly reload. The second is to upgrade the SledgeFire a bit without making it too powerful for simple office warfare. The Third... give this fella a neat paintjob! It's more important than you may think!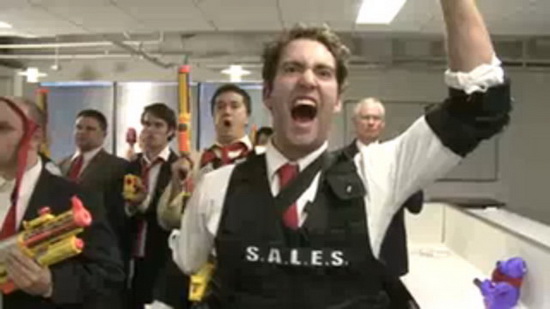 I never imagined I'd be combat-testing blasters from work, but it's a good time. I'm a little worried how far this might go, and when the friendly exhange will cross the line into a full-scale excursion into the depths of war... but I suppose if I don't up my firepower much more, we can keep things from getting out of control.
As I pick up darts around the office, I can't help but think... anyone else partaking in foam battles at work?