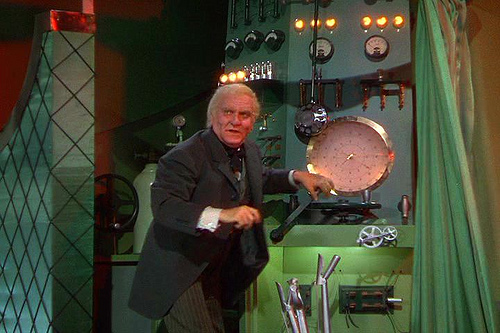 Pay no attention to the man behind the curtain!
It's certainly been an interesting month for Nerf News. Almost as quickly as news breaks about new blasters, red tape attempts rid the internet of any trace (no to avail). The first news we got in March was of the
N-Strike Elite Centurion
, part of a new "Mega" lineup with larger darts boasting 100 ft ranges. Shortly after news spread through blogs, forums, and websites, Hasbro stepped in and "
covered it up
".
This past week, news of the
N-Strike Elite RapidStrike CS-18
broke out, as well as a clear 18 round clip being spotted a few weeks before that which seems to confirm it's existence. The website that had hosted that image quickly removed their listing of this product, likely due to more Hasbro intervention.
The more I see stuff like this, the more I'm reminded of a certain situation that happened this time last year. Perhaps with some Taggers in an Urban environment? I know there's laws and companies trying to protect their products from being copied or released early and screwing up product launches, but this constant "NEW INFO!... oh wait... no nevermind. We can't say anything even though we already did." business is a little exhausting, don't you think?